As a Minor Rock Celebrity, my one and only world tour was in the Spring of 2004 to the wonderful and luscious Virgin Islands.  I flew to Orlando on March 9, 2004 and returned to New Orleans on March 23, 2004, a wiser, gentler human being.
Back in "Dat Day," when I played at 711 Bourbon, the "Tri-coo-coo" House, I met alot of folks from around the globe.  One Jazz Fest I saw Earl King play at The Fairgrounds, and recognized the bass player from his back-up band (The Butanes), coming through the door and introduced him to the crowd, John Charles Lindberg (RIP 12/10/16).  
I said something like, "Ladies & Gentlemen, we'd like to welcome a famous & talented musician to the premises!" (he told me later that he looked around, saying, "Cool, I wonder who it is.")  And turns out it was himself! I coaxed him to the bandstand to sit in, and we made friends, keeping in touch over the years. 
When Earl King passed, April 17, 2003, I met him at Gallier Hall for the Memorial Service.  Walking by Mr. King's Earthly Remains, I felt a strong vibration, like a wall or a force field of some sort... John and I became friends and he is the one who told me that my car's engine (the FurryMobile) was the best motor MOPAR ever made! 
John filled in on guitar with Lips & The Trips one gig at The Lounge Lizard, and decided to include me on a "musical outing" in the Caribbean of which he had been taking part with his friend and promoter, Charlie Campbell for about 10 years.  I was all about it and excited--Michael Vasquez, his friend from Minneapolis, was a regular and would play drums! Lips & The Trips was booked for their usual spots-- 12 gigs in 12 days...
From Orlando, I flew to Puerto Rico, and rode a Cessna 402 four-seater (they had to take my weight!) for Christensted, (Island of) St. Croix.  I sat shotgun and was too excited to allow my fear of heights to kick in. 
ST. CROIX, U.S. V.I.-- Christensted
Charlie picked me up at the airport and drove me and my guitar to home base--Toby's Breakfast Club--a small hotel up the hill, with breakfast included in the overnight stay:
Breakfast Club view from the terrace looking at on the Carribean Sea
Charlie had escaped his Minnesota winters by setting up this scene and was there with his wife, Sandy.  Our first gig was at "Cheeseburgers in Paradise" and I was loving it.  People were listening, paying attention, liking us & responding:

Cheeseburger in America's Paradise outdoor restaurant
I immediately took to John and Michael, and thought they took to me, but I found that my bandmates had their own agenda, which had little to do with sharing their talents by entertaining others.  OK, so I was naive... I was in heaven--tropical paradise, new audience, more love!!!
Next day, we took two ferries to get to West End, Tortola, British Virgin Islands and didn't realize I was about to be blistered-in-the-lips sunburned, and enjoyed the lovely and scenic (we passed by the Sir Francis Drake Channel, which separates Tortola from several smaller islands to the south--NOTE, For some reason I used to pretend I was Sir Francis Drake when I was a kid--former life or just liked wearing a cape???) 
TORTOLA, BVI--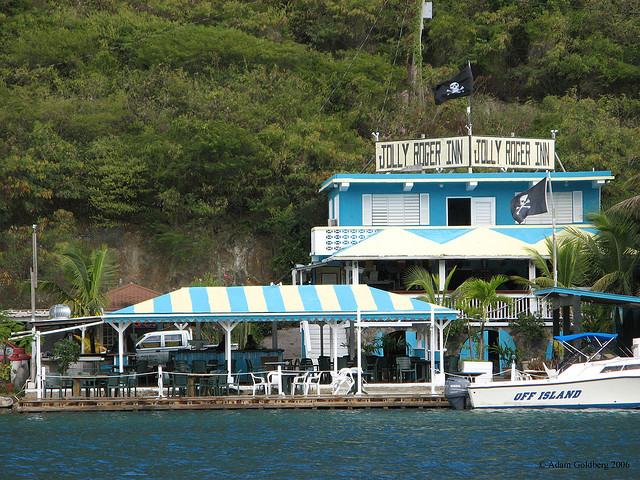 The Jolly Roger Inn
We played (two nights) and stayed at "The Jolly Roger Inn," owned by Kay & Louis Schwartz. Found out that My Idol, Jimmy Thackery played & stayed there as well! Most excellent food and nice view from my window of the Cay!  When I went into town, the capital, Road Town, on Saturday, the woman who owned the little shoe shop had been at my show the night before.  I remembered her, sitting with her husband and two young girls in the audience.  "We enjoyed your singing," she told me.  I bought some great shoes for $5 and shared a taxi ride back with a couple from The Heights (Houston), Pat and Janet. 
Met the owners of the Bat Cave, (Lou's competition) who wanted to hire us--John Schultheiss and April Ridi also owned Spaghetti Junction.  Their business card was good for a free Banana Baileys Colada (yugh?).  
ST. THOMAS U.S. V.I.--
Next stop was St. Thomas, USVI, and our first night was in Crown Bay at "Tickles Dockside Pub," owned by Janet Reiter & Lou Morrissette, nice folks!  [I just Googled Tickles and saw that Mr. Morrissette had been recognized in 2018 for his community-healing after Hurricanes!  Not a bit surprised! A very cool cat!]  I had badly sunburned lips and was very self-conscious about it...  
Tickles Dockside Pub
John had quadruple duties as the road manager and learning lead guitar--arranging for all of the transportation, buying ferry tickets, handling Customs, securing a van and driving us up the winding hill roads to a beautiful "band home" with a pool, owned by a friend of Charlie's--fine and gorgeous place with scrumptious views and set up like a dorm where we washed the sheets at the end of our stay. I noticed that John did not "keep up" with his health--I won't go into the details, but it was very concerning. He also had a crazy girlfriend phoning him constantly and threatening suicide UGH.  
In turn for the four-night stay, the band played gratis at the Offshore Bar, Havensight/ Port of Sale, run by R., where seemingly questionable gaming took place under their auspices as the club was a dive w/a sparse audience.  The gaming machines were the draw and after we played, J. & M. hit them, and I drank with audience-member Evelyn, owner of near-by Harbor Club, Port of Sale Mall#20, with Bill.  Evelyn & I took a shine to each other and she wanted to hire us for her up-scale spot, where the chef (from Lafayette) cooked up a the best gumbo I had ever eaten (up until then).  The Harbor Club was large, trendy, well-attended (and by high-rollers)--she was sitting on a gold mine.  Sitting with her at the bar, I wrote a line to a song about drinking: "Can't even remember why I got drunk." 
The next evening we played "Tommy Piano Bar," (not Tommy's, Mr. Grisby said because "it's for everyone").  His manager, Slater, knew me from the Rock'n'Bowl (where I had played with Johnny J.'s band).  This gay guy, Tommy was a total hoot and had a special "New Orleans" night for us--I had to give him my Lips coat 'cause he treated us so beautifully, even teaching Michael V. to "dance."   
Next night, a beautiful spot, Paradise Point, high above the harbor, a la James Bond movie, reached by a gondola! Johnny met someone who was living in his grandmother's house and was astonished, what does it mean? he asked.  "We are all One."  Neither he nor Mike bought that and I didn't realize their inner workings until the next night.
We played "Latitude 18" in Red Hook the next night, owned and operated by Alex Barcela, a former Houstonite. He graduated from St. James H.S. in 1985 (fellow alumnus of Dr. Rockit!) and knew my band's name, but had never seen me play. He said that "Charlie always offers him these 'teeny-bopper' bands and I turn him down, but I hired you."  (Charlie poo-pooed this when I related it to him).
The negative feelings grew o/b/o J. and M. and their anger turned into abuse that night after they left me in the van while they went into a crowded club on the way home.  I shared with them that I did not feel supported and M. retorted loudly: "We show up and make you look good--END OF STORY." Their jaded actions and attitude (whenever I approached M. to see how he was in between sets was: "I am paid for three sets" he would say.)  Maybe jealousy explained it?  M. didn't seem to think I deserved having my own band...that I wasn't good enough; he seemed to be protecting J. from me (J's psychotic g-friend would call up and threaten suicide every other night)  Regardless,  I actually cowered in the bathroom that night, assured that the "free cocaine" J. received in the parking lot had freed them to become raving lunatic maniacs...
Thankfully we returned from the wild frontier to homebase in Christenstad the next day where I was looking forward to my new Super Honey coming that night for a visit (and to protect me). On the ferry, I was incredibly seasick, vomiting on the deck all the way w/a simultaneous bladder "issue" and when we hit the dock, Charlie told me he had arranged a radio spot to promote our gig. They were annoyed that I had to get cleaned up.  I was unprepared and nervous, but disc jocky Tom Yarborough put me at ease, with his dog and girlfriend there.  Afterwards, the guys were pissed at me for not mentioning their names.  I thought I had--maybe they edited it for brevity?
That night we played at Bobby's BarBQue, owned by married couple Donna & Bobby (who else?), a sweet spot by the water, outside (where else?).  After the gig I got a note that Michael had arrived and "would find me." I got an audience member to drive me to the airport to pick him up and hoped that I would find him. I did and I was so bursting having him with me!!!  Beyond!!! Felt protected and loved again...had not expected to encounter such opposition to my dream of upliftment entertainment from my band members.
The next day our gig was at "Psycho" Frank Cervi's place on the North Shore, known as the "Lobster Reef Cafe" (off North Shore Road in LaVallee), a really nice spot on the water, where Frank played my cd at the breaks over and over! And I got to hang with my Super Honey--have some great photos of him outside the club there. Toby drove us to the gig, got drunk, and was hassling My Honey about whether he had been one of those "nazi" surfers in Huntington Beach...(???)  Really weird and creepy.   
Next up was the Rainbow Beach Club in Fredrickstad where we played in the hot sun at a hang-out, divey spot.  Toby taped it against my wishes and J. ended up with it--I never saw it.  Had an additional tussle with Toby--he claimed that giving My Honey a ride to the gig wasn't in the deal so I paid for some gas to allay any hard feelings... 
Our final gig was at the place we stayed, Toby's Breakfast Club, where we played for free--they gave out a limited number of tix @$25/each, aqll word-of-mouth, with Charlie cooking the bbq and we played in the dining area.  Nice couples came who sat and listened.  I wore comfortable clothes as I was exhausted and ready for comfort--the guys challenged me with: "Are those your gig clothes?" (which query remains a joke to this day...)  It felt comfortable and fun--Charlie started an audience participation, but M. took over with his drumming on every surface, squelching any good vibes that were about to whip up.  I ended up really disliking these guys and am only writing this now, seeing that John has passed.  I bless them and wonder at their short-sighted selfishness for their talents could have created so much blessings and instead: drek!  
However, my Super Honey and I had a splendid tour of the Island all to ourselves the next day: we arranged for a car rental so we could experience the Vernal Equinox on the easternmost end of the U.S. and got up before dawn to get there in time!  Afterwards, circled the entire Island of St. Croix, visiting up in the rainforest area where we saw some indigenous folks and sites. We were able to take a snorkeling trip out to Buck Island (no seasickness) and M. treated me to a great dinner onthe Harbor where we  laughed and laughed at a crab who stole a french fry and we got pix of him/her made off with it.      
There on the waterfront of St. Croix at the Christiansted National Historic Site, several buildings from the Danish colonial era remain, including the Customs House and Fort Christiansvaern (from the 1700s to protect the town from pirates). We strode inland and saw a local market set up in a Square, where I was not brave enough to even ask what the liquid was in the re-used bottles they were selling...
Despite my challenges with my bandmates, I had a splendid time visiting a beautiful part of the world, meeting lots of nice folks, and having a super time with My Super Honey, "AquaMan" who showed me the wonders of the world underwater.  I am sorry that The Trips of that time didn't live up to the past or the future band members and I say THANKS to my super-super SWEETIE for saving me and helping me to enjoy Paradise!  
PHOTOS COURTESY OF TRIPADVISOR
except for this and I am not sure how to remove it: